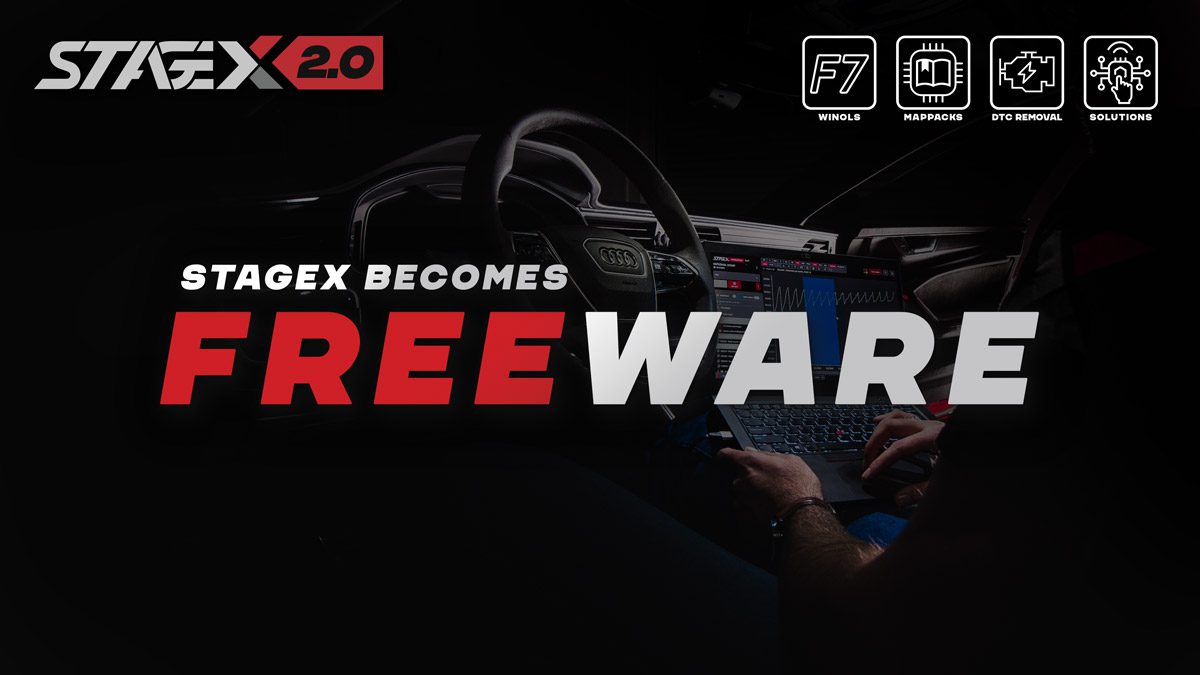 A shower of advantages
One of our key objectives right from the start has been to create an inclusive tuning environment, allowing anyone to partake in our journey within the mechatronics industry and recalibrate vehicles on their own, regardless of their level of expertise. We are committed to upholding this pledge and advancing our remapping revolution alongside all of you.
Get your StageX for FREE!
StageX Basic license becomes completely FREE for everyone! That means you can create projects and virtually tune any ECU on the market right away, completely FREE.
Our advanced Mapeditor will handle any task, from EGR OFF, GPF OFF, through SCR Deactivation, turning off Speed Limiter up to even Stage 3+ modifications, all of this directly from your browser (on MacOS, too!).
Remove any DTCs whenever you want in just a few clicks, thanks to our advanced DTC Removal Algorithms, or, in addition, get your Mappack for any of over 1250 Control Units currently supported by StageX.
Create your own Knowledge Database thanks to the My Solutions feature and start saving time on repetitive tasks or take advantage of the AI Solutions feature and modify control units with just one click!
All of that, and much, much more, is given to you in a Basic License, NOW!
*Mappacks, DTC Removals, AI Solutions & Checksum recalculation services are paid per project.
No time limits!
In contrast to the StageX DEMO, there's no time limitation for your license, and what's more, anyone who already had a DEMO or other license that simply expired, will also be able to join back our Industry Revolution - if it wasn't too long ago, you will even see your old projects back again.
FREE Mappacks and DTC Removals!
To help you jump-start your journey into StageX Remapping Revolution, we are providing you with access to Complete Mappacks and DTC.
Removal for MD1CS004, MED17.5, EDC17C46, DCM3.4, SID807 ECUs and even DQ200 TCU completely for FREE. Then, you will get predefined projects with each of those ECUs to play around with and test for yourself all of StageX potential.
33% Discount for Flex Masters!
If you're an active Full Flex Master user (FLS0.5M) you will get a special 33% Discount for Mappacks and DTC Removals in your Basic License (in comparison with the current Basic license pricing).
Get your F7!
Take advantage of StageX services directly on EVC WinOLS! If you're not an F7 fan yet, there's a step-by-step guide on how to register your EVC ID and enjoy StageX services directly inside EVC WinOLS.
All mappacks for over 1250+ Control Units, covering thousands of vehicles and also prepared for the most difficult Stages, plus our fast and easy AI Solutions are all available under one button in WinOLS, so what you're waiting for? If you're already a WinOLS user be smart: get your F7 and have fun with StageX Services right away!
10 for 10!
As for you StageX Plus users and F7 fans, huge promotions starting tomorrow are waiting for you, so don't miss the chance!
10 solutions for just 10 Red Coins each on 10.03 for the whole 24hrs and Mappacks for just 10 Credits for the rest of the month. More details in our previous news .
See you soon for more and more exciting news!
Recent News
Save on shipping costs, also on the Dynomag Hub...